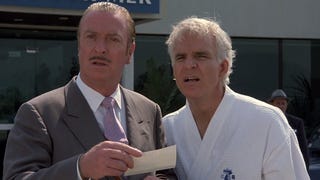 The 1988 comedy Dirty Rotten Scoundrels might be an imperfect classic. But this loose remake of the 1964 film Bedtime Story remains a classic nonetheless.
The Rock is here to teach you about being a man, while man-handling tiny elephants and riding around on giant bees. The Rock is strong but sensitive, and he's downright eager to guide you over the threshold into a new world of confusing sexuality, in which the scat of massive birds sprays all over people's faces and…
Journey 2: The Mysterious Island includes The Rock flexing his biceps while fighting off a giant electric eel and screaming, "Show me that 1,000 Watt Smile!" Watch six new clips — including Michael Caine acting like a lunatic and Josh Hutcherson channeling the sex appeal of a child's teddy bear. This could pose a…
Journey to the Center of the Earth starred a ridiculously game Brendan Fraser, who mugged his way through a series of computer-generated situations in 3D. Now the second movie, Journey 2: The Mysterious Island, stars an equally "why the hell not" Dwayne "The Rock" Johnson. Plus an "as long as I get paid" Michael Caine.
Or more to the point, what is Michael Caine about to say to his agent once he gets home from doing this fiasco? Some new character posters for Journey 2, the sequel that absolutely nobody demanded, have come out. And they're like the posters from the waiting room to Photoshop Hell. I especially like the look on The…
Journey to the Center of the Earth's sequel is minus one Brendan Fraser but plus one Dwayne Johnson. The Rock, who has teamed up with the boy from the first movie because he's his new Step-Dad (did Fraser die in the first movie?!), is trying to find Jules Verne's Mysterious Island (yes from the story). Long story…
Remote control cars have long been confined to one plane: the floor. No longer the case! The Zero Gravity Finn McMissile car—a suave spyster whip voiced by Michael Caine—can cruise from the floor to the wall without changing gear.
Need to amuse the kiddies while you recover from your Friday-night excesses? Gnomeo and Juliet is a remarkably pleasant film to watch with a hangover, featuring tons of Shakespearean in-jokes, garden gnome slapstick and Elton John cameos. It's the sort of film that's funny when you're barely awake, and it won't make…
What's better than having the ending of Inception cleared up? Having it cleared up in the silky voice of Michael Caine. In an interview on The Chris Moyles Show, Caine talked about show business, his book, and Christopher Nolan.