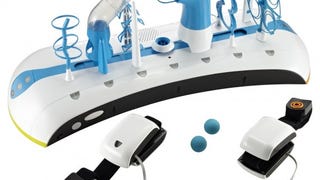 The original Mindflex was like playing basketball, but for your brain. Seriously, it read your brainwaves to move the ball. This new Mindflex Duel uses the same idea, but now you get to go head-to-head (or brain-to-brain) against a friend.
We usually assume words are just a way of expressing ideas already in our heads. But what if it's the other way around? Some linguists say the languages we speak fundamentally alter the way we think, and even perceive reality.
You already know what's on my mind, but what if you could see exactly what I'm thinking about? Might not be long before you can, because there have been some minor successes in thought decoding technology.
With $4 million from the US Army, scientists at UC Irvine will study synthetic telepathy, otherwise known as sending and receiving messages using your mind. The scientists believe that this amazing new form of communication could benefit stroke victims who can't speak—but also aid soldiers in the battlefield. If it…
A new project somewhere—readers, can you fill us in if you know—allows two users to type in a computer screen using only the power of their minds. The participants, Heath Ledger and some lady, are navigating possible letters by just thinking about the choices.