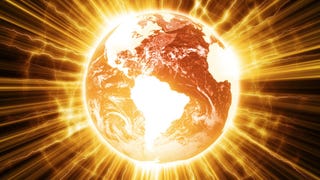 Hope you've enjoyed civilized life, folks. Because a new study sponsored by NASA's Goddard Space Flight Center says the world's industrial societies are poised to collapse under the weight of their own unsustainable appetites for resources. There goes the weekend . . . and everything after it for the rest of our lives.
Whenever Facebook rolls out a new broad survey of its data, like a map of NFL fandom, the instinct is usually to jump right to the counterintuitive bits—Why would there be a pocket of Saints fans in the heart of Texas?—and then sussing out an answer. But here, with a look at how positive and negative words are used in…
Flying this holiday? I'm sorry. Here's to hoping you don't get stranded in East Nowheresville on the way. As for the rest of us, the Misery Map is a fantastic way to sit back and bask in the misfortune of others. Or, uh, give thanks that we're not stuck at an airport. Yeah, that second one.
If you remember the Fraggles as brightly colored, fun-loving creatures partying underground, I have some unsettling news for you: The Fraggles were fucked up. They were more obsessed with death — theirs, others, yours —than any other creature on the planet, as this mind-boggling two-minute video proves.
What happens if you throw superheroes and supervillains into Stephen King stories? The Hulk adds a bit more literalism to The Green Mile. Harley Quinn manages to make Misery even more insane. And Deadpool? Deadpool's just having a blast.
Harley Quinn and The Joker in by . Deadpool in by . Mouse Guard and by .
What would life be like without all of those helpful infomercial technologies? Without the Awesome Auger, the Doggie Step, the Closet Organizer, the Egg Genie, or countless others? As this impressively thorough compilation shows: a big, miserable mess. [Kottke]
Recently, Apple removed Wobble—an app that adds animated jiggles to photo breasts—from the App Store. Other removals followed. Now, a developer who talked to Apple says the future of iPhone titillation is bleak.