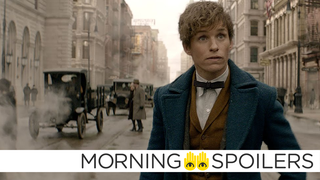 We're already getting teases for a Fantastic Beasts sequel. An Agent Carter alum joins the Death Note adaptation. The full cast of The Mist TV series has been revealed. Spidey hangs around in more Spider-Man Homecoming set footage. Plus, new Star Trek Beyond footage, and another terrible teaser for The Walking Dead's…
Plus more pictures of Kid Flash in action. Karen Fukuhara talks up Katana's role in Suicide Squad. Spider-Man swings into action in new footage from the set of Spider-Man: Homecoming. Tyler Hoechlin talks about his approach to playing Supergirl's Man of Steel. Plus, the Flatliners remake gets a release date, and Arrow…
Legends of Tomorrow casts its new Vixen. Norman Reedus continues to hype up The Walking Dead's gruesome return. Kevin Conroy teases the Batman's laugh in The Killing Joke. Plus, even more casting for Spider-Man: Homecoming, behind the scenes on Doctor Who season 10, and Stephen Amell on Arrow's future. Spoilers!
We learned in mid-April that the TV series adaptation of Stephen King's The Mist—previously a 2007 feature film—was surging forth at Spike TV. Now comes news that a director for the first episode has just been hired, and he's an odd but maybe ideal choice: Adam Bernstein, who won an Emmy in 2007 for 30 Rock.
J.J. Abrams already has hopes for a third Cloverfield. The Walking Dead will try its best to keep its new villain's fondness for foul language. Karen Gillan teases her return to Guardians of the Galaxy. Plus, a new trailer for Penny Dreadful, and Kara gets a strange new look on Supergirl. To me, my Spoilers!
Producers Harvey and Bob Weinstein are looking to scripted television to increase their media offerings, and they have several scripted shows in the works. Among the TV series we could be seeing from the Weinstein Company in the near future: a Sin City series and a Frank Darabont-led miniseries based on The Mist.
Is your air too dirty to merely filter? Then check out the Antibac2k. This little rotating sphere one-ups all of the gigantic air filtration systems in the US by proactively sending out an air filtration mist that rids your room of bacteria and dust. Think of it as Purel for the air. And if that's not enough, the…