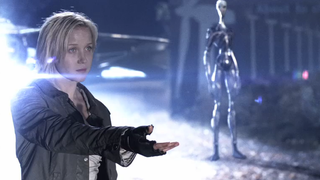 Falling Skies threw a huge curveball in the last few minutes of its first season — the sort of weird out-of-nowhere turn of events that makes you wonder if you missed a few episodes. And now that the show is coming back for its second season June 17, the show's cast and new showrunner admit that they were just as…
Moon Bloodgood teams up with Noah Wyle in TNT's new alien-invasion series, created by Steven Spielberg. Glad to see Moon sticking it out in the genre, after Chun-Li, Journeyman and Terminator Salvation. Maybe the fourth time will be the charm.
Want to know more about a minor character's climb up the ranks of the Resistance? The new six-episode Terminator Salvation machinima takes place two years before the film, exploring new bots and resistance-building.
Rumors that the unstoppable Terminator franchise was being deactivated have turned out to be totally false. Various sites reported last week that Terminator 4, the post-apocalyptic robot-fighting sequel starring Christian Bale as John Connor, was cancelled. But now it's just been announced that Moon Bloodgood (the…