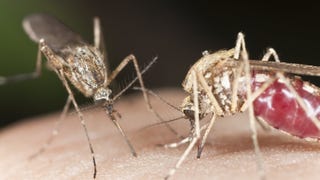 I have had it with these motherf*cking mosquitoes at these motherf*cking outdoor dinner parties. To prevent the little blood suckers from ruining the 4th of July—the biggest picnicking day of the summer—drastic measures are necessary. Here are some of the most effective (or, at least, most satisfying) methods for your…
Unplggd offers a great little how-to for anyone hates mosquitoes (read: everyone) and is sick of buying new candles and cans of spray. All you need is some orange peel and a spent plug-in repellent you might have lying around.
Remember that amazing mosquito-zapping laser we saw a while back? Here is a better look at it and other tech which will hopefully kill malaria and those annoying buzzing beasts which spread it.
Train stations in the UK sometimes broadcast mosquito noises that are so high-pitched they can only be heard by those under 25 years of age, but Japan's taken it one step too far with this age prediction gadget.
You remember that lousy mosquito noise device generators in the UK that were supposed to drive teens away because only they could hear them? The ones that actually turned out to be audible to just about everybody? They're coming to the US. People here aren't too happy about it, with some bans and protests after (and…

The first review of Compound Security's Mosquito device is in. The ugly little box works by emitting a high-pitched noise that only the younger folk are supposed to be able to hear. Trouble is, in Gadget Lab's test, the sound was audible to those of the older generations as well, those known to the food and beverage…
You might have heard of the teen-repellent noisemaker a store owner employed in his parking lot in the UK, and now that squealing device that supposedly makes an extremely annoying racket that only teens can hear has found its way to the United States. The device has been named Kids Be Gone, as if paying customers…
Paranoid about everything? The Sharp SH903i might be your dream phone. It has facial recognition software, linked through its 3MP camera, so you can lock up your phone's keypad and data with your handsome mug. In addition, the SH903i has a user activated privacy filter so that no one can see your screen from the…