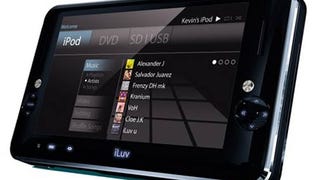 Most portable electronics make functional sacrifices in the name of portability. The iLuv i1166 is not such a device.
Once upon time, video codecs and formats were really only the concern of AV nerds, anime freaks and hardcore not-so-legal movie downloaders. Now, even the most part-time of geeks has to deal with them, whether they're trying to stream a flick across their house with an Apple TV, dump some video onto their phone or…
Starz is upgrading their infrastructure, transitioning from their MPEG2 systems of old (old, fat DVD codec technology) to sweet MPEG4 (efficiently-packed video that can be scaled more easily to HD). So why am I telling you this? Well, it's totally geektastic knowledge and sometimes I can't help myself. And also, these…
Over the weekend, Buy.com blabbed on SanDisk's Sansa TakeTV, formerly previewed as USB TV. Now available, the TakeTV mobile video player will cost $100 for 4GB and $150 for 8GB. Buy.com also mentioned the Fanfare video service, now in beta. It just so happens we got to play around with both, shoot some galleries and…
Panasonic isn't the only one showing off high-def recording at CEATEC. Toshiba announced three new HD DVD recorders, including the new flagship Vardia RD-X7. All of them can convert MPEG-2 to AVCHD MPEG-4 on the fly, and can store high-def video on DVD-R (2 hrs) and single-layer HD DVD-R (6 hrs) discs. Pricing and…
Onkyo wants to make it easy for you to record video from a TV or any other video source onto an SD card with its VR-1000J MPEG-4 Recorder, magically turning it into that MPEG-4 format of the Sony PSP or many mobile phones. No PC required, just plug the video in and out comes the PSP-playable video at 30fps at 320x240…
Achtung! Germany-based Rollei's about to release the dt6 Tribute, a consumer-grade 6.36-megapixel digital camera that's "compact and stylish." (You know a camera has nothing to offer when the best thing that it's got going for it is that it's "compact and stylish.") Other stats include a 4.8x optical zoom that…
Samsung announced its 7-megapixel Digimax S700 (pictured here) and 10-megapixel Digimax S1000 digital cameras, both with a 2.4-inch LCD and a 3x optical zoom that functions in both still and movie modes.
Minox is usually a nameplate we see on cameras around here, but now the company dives into the media player/recorder business with its DMP-3, whose distinctive look is the result of a collaboration between Minox and Volkswagen-Design. This is one small unit with its largest dimension at a mere 3.5 inches, but even…
Archos launched its 404, 504 and 604 players a month ago, and now here's a bit of information about its upcoming 700 TV model, a fine-looking porto-player that promises over-the-air digital television using the Freeview format. It's equipped with a 4.3-inch screen, WiFi, GPS and a cellular modem. Maybe all that…
The Cavalry Pocket Player Multimedia Device is probably not a media player you'll be showing off to those you would like to impress, but even though it only costs $120 it looks like it might be able to get the job done anyway. It plays back MPEG-2 and MPEG-4 movies as well as MP3, it's a mini DVR that can record…
LG shows that black is the new black with the MFJM53 portable music player. Shipping with an 8GB hard drive—like the iPod mini that Apple forgot—the MFJM53 has a slick finish but substandard features.