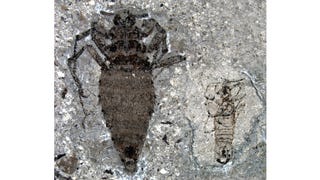 Their descendants are happy to just suck blood and pass along parasites to small mammals, but the hugeprehistoric fleas from 165 million years ago were equipped with saw-like projections around their mouth—for penetrating thick dino hides—that would probably make short work of a Chihuahua.
MSNBC had an impromptu demonstration of its new Microsoft Surface table this morning, and gave political analyst Chuck Todd a chance to play with his dollies. At first, the goateed Todd moved states around, zooming, coloring and highlighting with his finger. Though he didn't really have a full handle on all the…
MSNBC's new flash-based "visual newsreader" (as opposed to?) presents headlines by either spinning them off of a colorful 3-D spiral or spawning them from the dominant colors in front of your webcam. The service, called Spectra, is one of the most ridiculous ways to communicate information I've seen in a long time. So…

That's what MSNBC's Gary Krakow claims, as he descends into the mad crossover world of audiophiles hunting for special series of PS1s that double as incredible CD players. You, sir, are as wild and crazy as your profile shot implies.
That makes sense. Madness...if not for the fact that I WANT to believe.