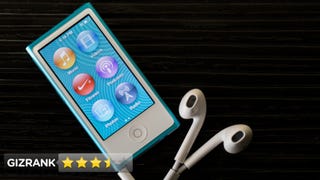 Seven generations of iPod nano evolution have culminated in something pretty special. The latest iteration of Apple's mini music player is its thinnest, has the biggest screen ever (for a Nano), and tosses in Bluetooth to boot. Is it great? Yes. Is it enough to make you care about MP3 players again? Not really.
Can you believe that Sony was still selling MiniDiscs, with the Nikkei reporting 22 million players were sold up to March 2011? If you want one brand new, you better get in quick though—as of September, it's deeeead.
The Hifiman HM-801 looks like an old portable cassette player, but apparently it might just beat out most music players in sound quality. At least that's what CNET though when they had a listen. They even found it worth $790.
The Samsung IceTouch seems odd with its AMOLED touchscreen and rubbery-looking bottom half, but it's fun to use and designed to keep your fingers from getting stiff while handling it. Ok, and the transparent display is just plain awesome.
So using the new iPod Shuffle revolves around clicking the headphone remote in Morse Code-like combinations.There must be an easier way, guys. What is this, The Diving Bell and the Butterfly? [Apple via Engadget]