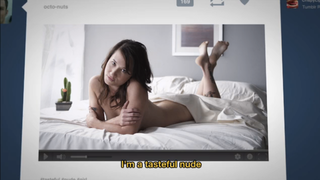 If you use Tumblr or Facebook or Twitter or any site like that, you'd know that they're all complete time sucks. Hopping onto Tumblr is especially dangerous because of all the rabbit holes you can crawl into—food, tasteful nudes, fashion, tasteful nudes, animated gifs, tasteful nudes, virally reblogged reblogs and…
If Spider-Man: The Musical taught us anything, it's that you can never have too many airbags on hand. For their new Vegas show, Cirque du Soleil is using the largest one of its kind.
My goodness, is there anything more joyless than a social media conference? Well, okay, probably yes if you're the type of person to take things hyper-literally. But! For the rest of us, Improv Everywhere's mischievous band of insta-musical revelers couldn't have picked a better target than Gel 2011.
You can play the fiddle, the piano, and plenty of other instruments on your iPhone, so why not the trumpet too?
What looks kinda creepy actually sounds quite cool. The Concert Hands system teaches you piano (or keyboard) using a 10-finger feedback system that gently pulses when you should play, coupled with an automated wrist pilot that guides you across octaves.
Take a peek at this insane clarinet mod, which causes the instrument to drop its musical roots in favor of something a bit more offensive. Unfortunately, there isn't an awful lot of information to go on, but the device clearly looks like an artwork installation, meaning it probably isn't going to be firing rounds of…
Guitar players, you'll love this little Tascam MP-GT1 Portable Memory Guitar Trainer, an MP3 player that's also ideal for some serious woodshedding. You can plug in your ax and play along with up to 240 songs you can store on it, slowing down the music so you can play along. Hey, now you can learn new licks at your…