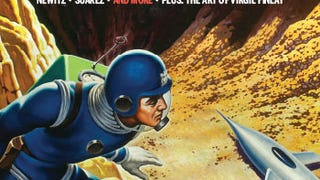 MIT's Technology Review has a bit of a secret: just about every year, they put together a science fiction edition titled Twelve Tomorrows. It's one of the best collections of short science fiction out there, and you can now preorder the upcoming issue.
Science fiction and fantasy offer a rich legacy of great books—but that abundant pile of reading material can also be daunting. So sometimes, it's easier to fake it. We asked some of our favorite writers, and they told us the 10 books that everyone pretends to have read. And why you should actually read them.

Want to know more about the mysterious Magic Leap and its plan to make virtual objects appear in the real world? Watch this fireside chat with three of the company's leaders, including Snow Crash author Neal Stephenson. [MIT Tech Review]
Neal Stephenson, author of the acclaimed novels Snow Crash, Cryptonomicon, and Anathem, is here to talk about his latest, Seveneves, and chat with us about his visions of the future.
Famed scifi author Neal Stephenson's new novel Seveneves is out today, and one of the most exciting things about it is that it's packed with realistic representations of space megastructures where humans live. We talked to Stephenson about his ideas, and have some exclusive art from Weta showing what they look like.
Magic Leap's mysterious augmented reality tech promises to "bring magic back into the world." And now Neal Stephenson, who imagined the virtual Metaverse in his 1992 novel Snow Crash, has joined the company. He tells io9 why this technology may "demand a new way of thinking."