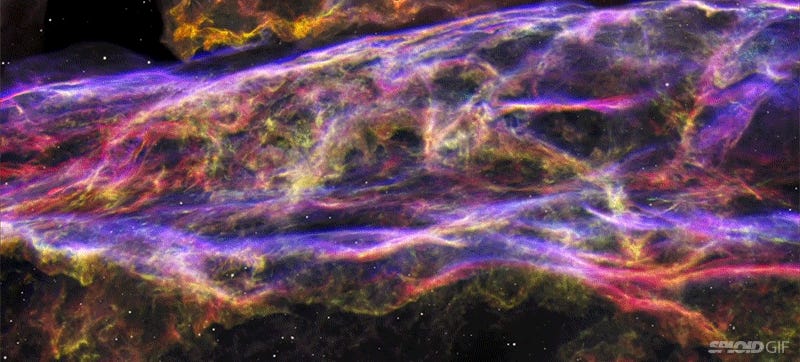 The Hubble Space Telescope took a new image of the Veil Nebula, a supernova remnant from a star that exploded 8,000 years ago, and made this truly spectacular flyover visualization of the beautiful ripple in space that you can see below. In the 3D visualization, red is sulfur, green is hydrogen and blue is oxygen.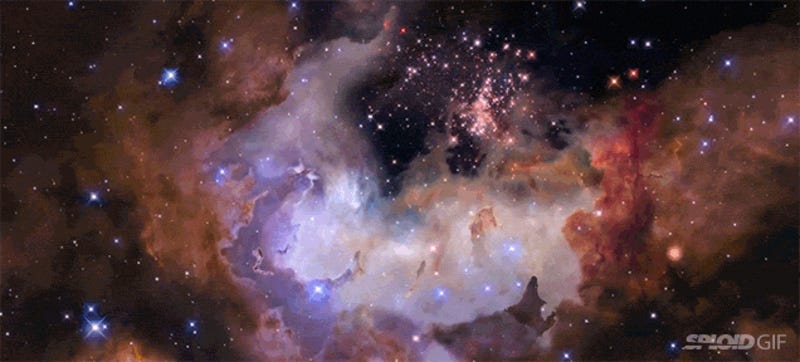 If space traveling the universe had a scenic route, this would be it. It's a 3D fly-through of the nebula Gum 29 with the stunning star cluster Westerlund 2 in the middle and it's absolutely gorgeous. The image was taken by the Hubble and shown off for its 25th anniversary. It's the stuff of dreams.
The Universe is an incredible place that defies belief. We take it for granted because the distances and scale is so alien to our little tiny pale blue dot that our brains can't even process them. Maybe that's why Italian artist St. Tesla turns galaxies and nebulae into tiny precious jewels.
We loved Karen Gillain's take on Nebula in Guardians of the Galaxy - if only there was more of it. But while it might be a while until we see more of her, at least now we're getting some Nebula merchandise, in the shape of a new Funko Pop! Vinyl.
The Ring Nebula is a common image in astronomy, but new images from Hubble reveal something rather strange inside the cloud of swirling gas.
This might look like some weird cosmic gateway straight out of 2001: A Space Odyssey or a particularly trippy old-school Doctor Who adventure, but the Red Square Nebula is completely real. Just don't ask astronomers to explain its bizarre shape. [io9]