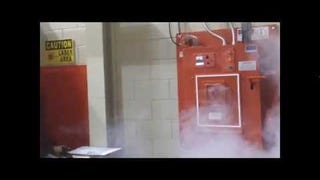 If you thought you were a big fan of Bill Murray movies, you've got nothing on one Italian fan who's built an impossibly perfect replica of the basement of the Ghostbusters' firehall headquarters.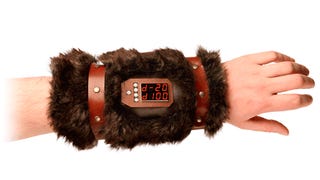 What's most surprising about this incredibly nerdy fur-covered electronic dice gauntlet that ThinkGeek is now selling is that it's not the first of its kind. Back in February of last year we brought you a similar creation, although that version was strictly DIY. This one, however, can be yours, fully functional out of…
Try as they might, no human born of mortal parents will ever create a DIY project that's more nerdy than this epic leather fur-lined gauntlet that includes a built-in digital Dungeons & Dragons dice roller.
The Pi Necklace lists the first 100 decimal places of everyone's favorite irrational number, pi. It's the perfect accessory for Pi Day, or any other day, for that matter. [RGB Laboratory via Craziest Gadgets]
Yesterday I asked you to post some of your favorite tech-related comic strips. As these 10 examples point out, the medium is still alive and well despite what newspaper comics would lead you to believe.
If you want to wear fandom on your sleeve without going all Star Wars t-shirt on us, then you might want to pick something a little more subdued and cerebral. But still, you know, dorky. If you want to come out about your science fiction love to the world, there are a few cool indie t-shirt designers out there to help.
With Halloween just a couple of days away, you may find yourself searching frantically for that last minute costume. If any of the following outfits are on your list, strike them off immediately —for these are costumes likely to result in a severe ass kicking. And nothing ruins a Halloween faster than wedgie-induced…
Gizmodo presents the LED dress shirt: for the dork who mistakenly thinks he's gotten too cool to wear a pocket protector.