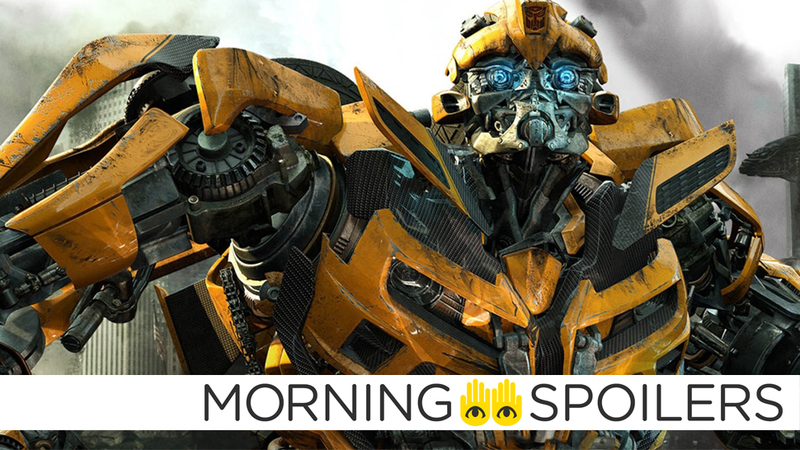 It seems like Aquaman will delve into Arthur Curry's past. A surprising Handmaid's Tale return is confirmed. There's more to deaths in the aftermath of Arrow's explosive season finale. Plus, new pictures from The Lego Ninjago Movie, and Peter Capaldi and Pearl Mackie on Doctor Who's season finale. Spoilers now!

Lego's third feature-length animated film, The Lego Ninjago Movie, doesn't hit theaters until September. But the toymaker has already started to reveal a new series of sets based on the movie, which feature ninjas, giant robots, and... wait, do you really need anything else in a movie?
Infinity War will have one major scene jam-packed with Marvel heroes. Three kaiju legends will appear in the next Godzilla movie. Daenerys returns to Westeros in a new Game of Thrones picture. Plus, behind the scenes on X-Men: Dark Phoenix, and a new War for the Planet of the Apes clip. Spoilers, roll out!

Fans love to talk about how many Marvel or DC films come out each year, but very few acknowledge there are two Lego movies coming out this year. The first, The Lego Batman Movie, is out this week. The second, The Lego Ninjago Movie, is out September 22, and some revealing new images were just released.
It's kind of mindblowing to think there are multiple Lego movies on the horizon. There's the 2019 sequel to The Lego Movie, a Batman-centric spinoff in 2017, and The Lego Ninjago Movie, based on the absurdly popular ninja-themed Lego brand. It hits next fall and the voice cast has just been revealed.
This kid is Luka Apps, a 7-year-old kid from Great Britain. Luka got some money this Christmas, which he decided to spend in a shiny Lego Ninjago Ultra Sonic Raider set. Unfortunately, Luka lost one of his new favorite Lego minifigs on a shopping trip with his dad, which made him very sad. But instead of assuming his…