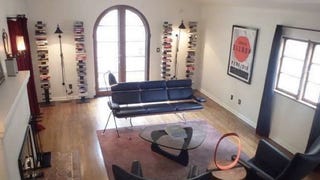 Here's the just the place to pen your first/next noir masterpiece: James Ellroy's Hollywood Hills home. The author of L.A. Confidential and The Black Dahlia is selling his three-bedroom 1920s abode for just under $1.4 million. Not included: multiple bookshelves filled with his own works.
Sharp-witted writer Damon Runyon dubbed the 1927 killing of Albert Snyder "the dumbbell murder," but it wasn't due to the murder weapon; this photo shows what Ruth Snyder and her lover Henry Judd Gray used to end her husband's life. The moniker came because the killers were, to put it bluntly, stupid.
Call it noir, or just call it what it is: Black and white at night. For this week's Shooting Challenge, ditch the cheesy detective hats, but keep the beautiful juxtaposition of whites, blacks, and the gradient grey in between.
The life of a superhero is a solitary one, no matter how fantastic the four. The powers that make heroes unique and special are the same that isolate and distance them from the rest of society. Marko Manov delves into this dichotomy in his fan art series "Superhero Noir" by mixing modern-day mythologies with a classic…
Forget the cheesy fedoras and femme fatales for a moment. Film noir was, at its heart, about light and shadow, hope and despair, good and evil...and the difficulty of distinguishing everything in between. For this week's Shooting Challenge, rediscover noir.