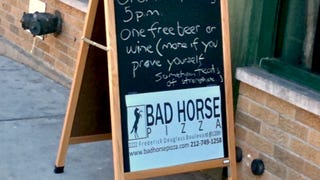 You'd best eat in this restaurant, or he'll make you his mare. Bad Horse Pizza will open tomorrow at 5 PM in Harlem, and they're offering free beer or wine to customers who prove themselves through feats of strength.
After what must have been a passionate debate, the American Dialect Society has deemed "app" the 2010 Word of the Year, beating out Cookie Monster's "nom." It sounds like we need to get our consumption priorities straight.
Yelp has plenty of restaurant reviews, OpenTable lets you make reservations at many of those restaurants, and now you can make those OpenTable reservations directly from the Yelp website. A perfectly logical union. [NYT]
Tiny red light-emitting diodes infuse potato plants with life even in the unnatural environment of a space station — fueling our brave hope that one day, astronauts will be able to make their own vodka. Food in space has come a long way, as a new space-food retrospective proves.