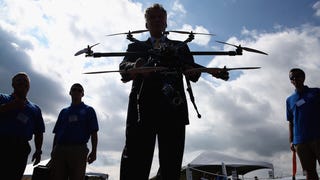 A new nonprofit called UAViators is promising to offer experienced drone pilots a place to sign up for humanitarian missions where their aircraft can do some good. Pretty soon you might be showing the world how drones can save lives, not just take them!
Charity Navigator, the website of choice for determining which charities operate most effectively, has released its annual study of CEO pay at charity groups. Only 11 charities in America pay their leaders over $1 million. Here they are.
Farming! Tree Planting! Sustainable Housing!!! It's Earth Day and our good friends over at Philanthroper and TreeHugger have combined do-good powers to send money to non-profits interested in keeping the Earth inhabitable. But they need your help.
Science on Screen, a series at Boston's Coolidge Corner Theatre in which audiences watch a Hollywood movie and then a scientist uses it to explain real scientific principles, may soon arrive at your local rep theater — thanks to a $150,000 grant from the Arthur P. Sloan Foundation. [Boston.com]