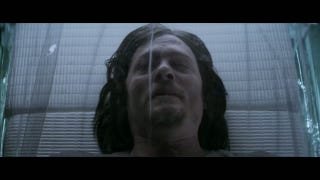 Norman Reedus volunteers to test out a cryogenic suspension chamber—only to find out that it's not just like going to sleep regularly—in this clip from the new movie Air. This is one of the most terrifying moments in this post-apocalyptic movie, and we're presenting it exclusively at io9. This moment made me lose my…
Produced by The Walking Dead's Robert Kirkman, Air stars TWD's Norman Reedus and Djimon Hounsou as maintenance workers in a silo containing the remnants of cryogenically frozen humanity after the air turns poison. As this first trailer reveals, something goes wrong, and the two workers have to fix it... fast.
The second half of The Walking Dead's (pretty excellent) season 4 begins on this Sunday evening, but last night talk show host Conan O'Brien welcomed the show back with a full-on undead extravaganza, complete with zombie lesbians making out, Daryl singing, and the greatest cold open in Conan history.
We all know Daryl Dixon is a badass, and it seems like the actor who plays him, Norman Reedus, is probably one as well. In the ultimate test, Andrew Lincoln (who plays Rick Grimes) and prankster Nick Santonastasso team up to put Reedus in a "real" zombie attack.
While we all now know TWD's Daryl Dixon as a zombie-killing badass, actor Norman Reedus needed a great deal of crossbow training before he could play the role so effectively. As Conan O'Brien's research team discovered via this footage, Reedus had a lot to learn when he first picked up Daryl's crossbow.
The Walking Dead wakes from its brief dirt nap tonight, refreshed and ready to shower us with zombie guts. Celebrate with Daryl Dixon and this absurd portrait by Dena Jarrar, and chat about tonight's episode here.
Are you ready for the season 4 premiere of The Walking Dead this Sunday night? If not, then you'd best watch this instructional video from Norman Reedus, who plays zombie-killer extraordinaire Daryl, in which he discusses the secrets of being a total badass. As the show's only total badass*, I think he would know.