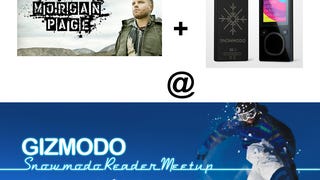 Grammy nominated DJ/Producer Morgan Page will be playing the Zune party at Snowmodo this Saturday at Northstar-at-Tahoe. Not enough to excite you? How about custom Snowmodo Zunes or our Official Snowmodo Soundtrack...
Snowmodo Event Information. Once in lifetime chance opportunity with only little money spread needed for rewarding investment return. INFORMATION
We have an absurd amount of prizes to give away at our Snowmodo event on Saturday April 4th at Northstar, so if you're planning on attending you'll have a very good chance of winning something.
Northstar-at-Tahoe has provided Gizmodo with a coupon code that will save you up to 30% on lodging booked for our Snowmodo event. So come up early, stay at Northstar and grab a drink with us.
Whoa, our Snowmodo Event is only two weeks away! If our already impressive list of company attendance and planned events wasn't enough to get you excited our announcements next week should grab your attention.
Our Snowmodo meetup at Northstar-at-Tahoe is only a month away, so we hope you're already planning your trip. If you haven't made plans yet, RSVPing for the event and a ride is a great start.
To make our Snowmodo meetup at Northstar-at-Tahoe accessible to everyone, we need to arrange a carpool or bus. So we ask you guys, who needs a ride and how can we make it happen?
We've already got a few great companies lined up but we wanted ask you guys, what products or companies would you like to see at Snowmodo?