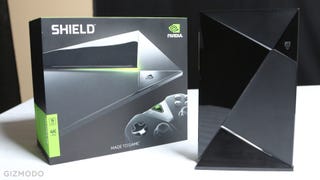 Last year, chip-maker Nvidia entered the hardware dojo with Shield, a weird but interesting Android gaming machine. Its successor has arrived, taking a form that's a little more familiar. This is the Shield tablet, the first Android tablet straight-up made for games. We spent some time with it, and so far it delivers.
Usual disclaimer about not trying this at home and all that but if you were wondering if you could use the Nvidia Shield as a bulletproof vest and then still play with it later, the answer is yes! Well, as long as it gets shot through the screen. And as long as you're not actually using it as a literal shield. Our…
Nvidia's Shield just got a liiiittle cheaper. Instead of the original $350, it's now $300 thanks to popular demand. It'll be officially available on June 27th, if that price drop got you interested.