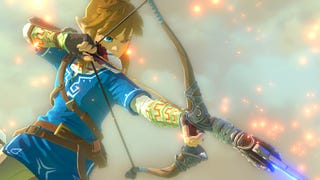 El nuevo The Legend of Zelda se retrasa a 2017 y saldrá para Wii U y NX. Nintendo ha confirmado que el nuevo título de la mítica saga de videojuegos The Legend of Zelda tampoco llegará este año 2016 como habían prometido, sino que ha sido retrasado para el 2017 y, además, no será exclusivo de Wii U, también llegará a…
Generalmente, los fabricantes de tecnología presentan un producto y, unas semanas después, anuncian cuándo estará disponible en los diferentes mercados. Nintendo acaba de hacer exactamente lo opuesto. La compañía acaba de anunciar la fecha de lanzamiento global de su nueva consola, la Nintendo NX. Será en marzo de…
Nintendo's new gaming platform will encompass a console and a handheld according to a report in today's Wall Street Journal.
Current Nintendo hardware uses the company's own proprietary operating systems. But according to Nikkei, one of Japan's largest newspapers, that will soon change. One insider tells the paper that the NX will supposedly be built around the Android OS.
The new NX1 is the first Samsung interchangeable-lens camera that's truly compelling enough to consider alongside the competition. Its billboard feature: 4K video in a tiny package. But more than just trotting out of a glitzy, buzzy feature, the NX1 is loaded with advanced tech, including an industry-leading image…
With the new NX3000, Samsung's hoping to lure price-conscious beginners. The entry level interchangeable-lens camera swaps out the huge 3.7-inch touchscreen interface of the old NX2000 for a smaller, 3-inch (non-touch) LCD and a traditional button interface.
Some folks at NXRumors have dug up an image of what is purportedly a new mirrorless camera from Samsung. It's incredibly small looking, and selfie-ready!
The NX10, Samsung's first mirrorless camera, was smaller than a DSLR, but it still looked like a DSLR. The NX100 does not—it's all flat surfaces and gentle curves and even sticks a manual control on the lens itself.
Samsung's forays into high-performance photography gear have so far been cautious (read: derivative), but the NX series, set for an unveiling at PMA this week, is half-DSLR, half-P&S, and very interesting.