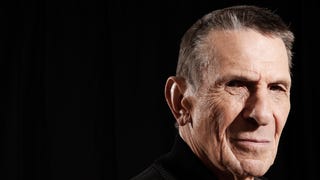 I'm trying not to cry as I write this. Actor Leonard Nimoy has passed away at age 83, leaving behind a legion of grieving fans who have loved him all their lives, and millions of honorary "grandchildren" like me.
Stephanie Kwolek, the chemist who invented the incredibly tough fiber known as Kevlar, died yesterday at the age of 90. She was definitely a "true pioneer for women in science," as DuPont CEO Ellen Kullman noted, and her contributions to engineering and life-saving technology will ensure her memory lives on.
Mikhail Kalashnikov, inventor of the AK-47 assault rifle, passed away this morning at the age of 94, according to the BBC.
Aged 90 years old, John Gavin Jr passed away on Saturday from acute leukemia and pneumonia. He played an instrumental role in the 1969 Apollo 11 mission, leading the 7,500-strong team which created the Eagle lunar module. [NY Times]
Here's a funny story! Some time ago, Virgin Mobile snatched up a little wireless company called Helio, with hopes of using it to start a postpaid (on contract) cell service to complement its prepaid business. Then, Sprint, one of the largest postpaid carriers in the country, bought Virgin Mobile, effectively rendering…
Oct 23 2007: The last time we posted a story on i-mate, a once-hopeful early player in the Windows Mobile handset field. Since then, the company's story has been one of slow decline: restructuring, moving, layoffs, missed orders and debt. And now, at long last, death. [ITP]
Bert Praetorius wasn't a famous inventor, but many of you will recognize and appreciate his contributions to a simple function we've all used at some time or another—rewinding. Rather than rewrite his story ourselves, here's the poignant obituary from one of his grandchildren:
Late Tuesday night, at approximately…