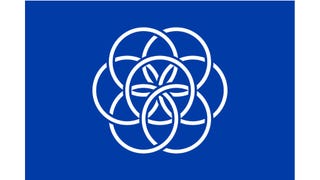 As a student project for his degree in fine arts at Beckmans College of Design in Stockholm, Sweden, Oskar Pernefeldt designed this international flag to "be used while representing planet Earth" and "remind the people of Earth that we share this planet" according to his project site.
As long as architects keep building up (and up, and up), folks are going to want to check out the view from way up in the air. Well: The Burj Khalifa just unveiled a new observation deck that gets visitors a little closer to heaven on the 148th floor—that's about 1,821 feet. Gulp.
A few weeks ago, we showed you a terrifying Alpine tourist attraction called "Step Into the Void." It's a glass cage that hangs more than 3,300 feet above the mountains. But the Void is hardly the first heart-stopping skywalk—in fact, these are dozens out there that are just as scary.