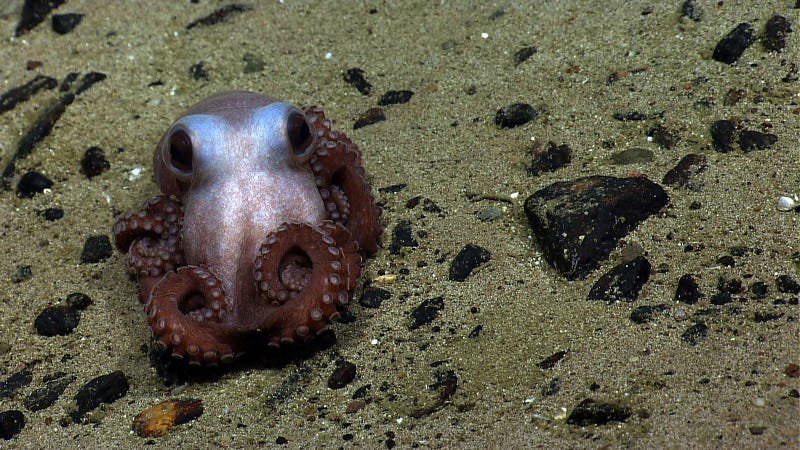 As if we needed more evidence that cephalopods are on the verge of a global uprising that will end in humanity's destruction, our favorite tentacled invertebrates appear to have an insane visual system that allows them to perceive color despite being technically colorblind. This, along with distributed brains and the…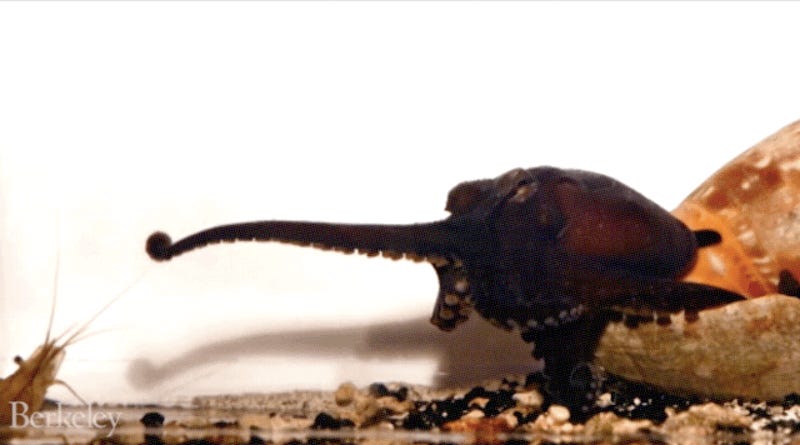 Cephalopod experts at UC Berkeley have discovered that the larger Pacific striped octopus—seen here outstretched—employs a rare hunting strategy. Instead of pouncing on its prey with all eight arms (a common technique among octopuses), it extends a single limb, like a grabby toddler, and startles its prey into…
We already knew cephalopods are amazing creatures—how many of us can go from colored to invisible in a blink? Hell, octopuses can even operate cameras. Still, sensing light with one's skin is a pretty impressive trick, even for the rock stars of the invertebrate world.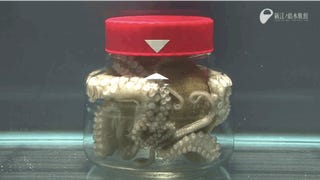 As though the case for octopus intelligence wasn't strong enough already, check out the moves on this eight-limbed beastie. With a few deft turns of its tentacles, it manages to unscrew the lid of its enclosure from the inside.
Kaity O'Shea is a Los Angeles based artist who loves making badass tentacle jewelry out of polymer clay. Seriously, her work is kind of fantastic.
It's further evidence that octopus intelligence is unlike anything we've ever seen. Their arms continue to remain alert, reacting to pain, long after they have been removed from the body of the octopus. This isn't just post-mortem twitching — the tentacles are aware of their environment, and responding to danger.
Octopuses are absolutely hilarious, what with their penchant for puzzle-solving and infinitely useful tentacles. Just check out this video by Lauren De Vos of the University of Cape Town's Marine Research Institute — while filming a bait canister in Cape Town's False Bay, a thieving octopus managed to undo the humans'…
It's not uncommon for many species of octopus to die promptly after mating, but at least the sight of these cephalopods creating new life can be beautiful. Or squirm-inducing! It really depends on your tolerance for thousands of wriggling, miniature octopuses.
Dolphins are known to engage in interspecies play, but here's an example of some accidental interspecies foreplay. While observing bottlenoses last week off of the Greek island of Kalamos, biologist Joan Gonzalvo of the Ionian Dolphin Project photographed this, ahem, unique shot of a dolphin receiving the tender touch…
We all know octopuses are clever, but a recent study reveals that the brainy beasts are crafty even at the molecular level. In a study published in the latest issue of Science, researchers reveal that octopuses living in the hypothermic climes of Antarctica rely not on their DNA, but the revision of their RNA, to…
Last year, a group of artists called Nevercrew created this gorgeous octopus pool, which they dubbed "Big Pink." Here's how they made it.
Extremely important research is being done in Australia right now, and it's yielding extremely important results: octopuses are officially more technically discerning than about 1/5th of the American public.