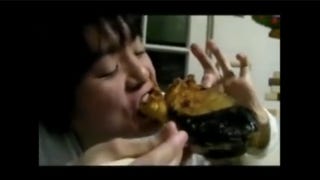 The folks in this ten minute video decide to cover a PSP in batter and then deep fry it. At about a minute in, they cover it in batter. At about 2 minutes in, they toss the battered PSP in [
Kotaku
]
My wish that future wars be fought adorably with tiny cannons came a bit closer to reality today thanks to a resurgence of the mini-cannon, now in version 2.0. It is still as deadly as ever.
When people make wishes, many ask for world peace. I, on the other hand, would wish for something far more realistic—that all conflicts be resolved with tiny cannons, like this one. Wars would be so adorable! [Reddit via CrunchGear]
I've always figured that if you spent enough time on the internet, you could discover anything. And when I came across my apparent long lost twin earlier today, my theory proved eerily true.
Bicycles built for two seem like they'd be romantic, but how do you decide who gets to sit in front? It's clearly the better position, as you get a view of the open road rather than of your bikemate's sweaty back. That's why this strange mutant two-person bike makes sense… sort of. I mean, it seems like just riding…
Add this Girlfriend Pillow to that Lap Pillow we showed you a few years ago, and you could end up with a whole girl, minus all that bothersome yapping. This one takes the concept a step further, quivering with delight thanks to its internal vibrator that runs on two D batteries.
Here's a two-thirds scale bust of Ludwig Van, wearing a pair of Vuarnets and reminding us of what time it is. Judging from his expression, it looks like the old master isn't too joyful joyful about wearing these shades; he could thinking about committing some of the ultra-viol, my little droogies. We think this statue…
We've heard of getting a free ice cream scooper with the purchase of two boxer briefs, a free calculator with a pair of socks, and now you can get a couple of free Maxell batteries when you buy a bottle of Japanese grog, or as they call it, sake. Is this some kind of ancient samurai hangover cure?
Here's another one of those cryptic watches that make you guess what time it is, the JLr7 by e35 whose little J and L-shaped LEDs seem to light up at random. Even its name seems arbitrary, but check out the top row of LEDs and you'll see: JLr7. How does it work? The first three rows of lights show the hours in a…
Something's fishy about this extension cord with the male plug at its head and female receptacle on the other end. Not sure what kind of fish this is, but we're thinking it must be an electric eel.
Are Jeep and Mitsubishi using the same car alarm codes? Check out this video, where our beloved bloodbrother Ray Wert at Jalopnik wants to get into his Jeep, hits the unlock button on his remote key fob, and the alarm goes off in the Mitsubishi next to his Jeep. WTF? Ray tells us that Mitsubishi and Daimler…