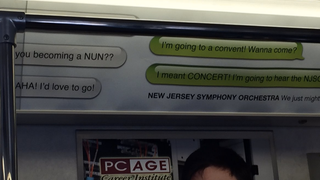 I don't know why the New Jersey Symphony Orchestra used an autocorrect joke as a vehicle to promote their brand, but you know what? At least it's not a horrifying ad for breast augmentation.
In the New Yorker this week, William Sorensen delves into the strange and amusing world of parental texting. Highlights include: "T4W = Time for whiskey" and "RxV—>BW = Got Viagra prescription, just need Barry White cassettes."
From the same studio that made the Snuggie commercial, a hint that some company will soon be shilling cheap 35mm Vivitar analog cameras to your pep-pep and me-ma. Gird up your brain loins, nerdy grandkids, and be ready to educate.
Sometimes, old people fall and they can't get up. It's a fact! Designer Haishan Deng has proposed a simple, timed bathroom doorknob for folks who are prone to such accidents, living alone, or clumsy.
Why Honda took a few days to seed a video of their potentially emasculating robotic legs is beyond me, but here it is: a faceless man running the "Walking Assist Device" through its strides (ha, ha). My fears of testicular danger are only partially mitigated, and the fact that the legs have a hilariously feminine gait…
Honda's
first foray
into robotizing old peoples' haunches looked pretty tame, but this new one, on which geriatrics are supposed to mount like some sort of meat trophy, feels like a glimpse into a horrible, dystopian future where up is down, right is wrong and grandmas and grandpas amble through Sears on mechanized…
Which sounds like a better way to make the roads safer: rescind drivers licenses from people who are very old and have failing vision, or create a fancy system with lasers to allow them to keep driving. If you answered the latter, you're in the same camp as General Motors. They're hard at work on a fancy new…