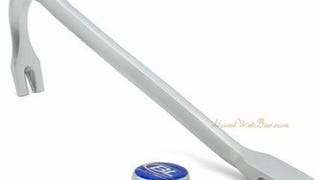 "Grrrr.... ahhh" is roughly the sound you'll make as you use this crowbar bottle opener to muscle-off the cap on a bottle of lovely beer. And you'll get to whack the opener menacingly into your palm if you're in the mood to look like a heavy. Just don't be too energetic opening the bottle, else it'll swing back and…
The Skinny: Opens your garage via fingerprint of up to 20 others. Survives in extreme temps from -30 to 122 degrees Fahrenheit and wet weather. Costs $130 bucks.
The Catch: The preferred way to open a garage is still the good old janky wireless remote from inside your car. [Smarttouch via Gearlog]
Next time you open up that "past due" notice you can still feel like a bad ass with this Zeus lightning bolt letter opener. All junk mail and coupon flyers will tremble before you and your awesome power —not to mention mailmen, neighbors, kids, and small dogs (if things get out of hand). Available in solid or silver…
The Gadget: The Plastic Surgeon, a cutting tool to open those plastic blister packs that dominate retail packaging. It's shaped sort of like an old-school can opener (the non-turning kind), and is designed to rip the tip off of clamshell packs by slicing all the way around.
Plastic clamshell openers like the OpenX have been around for a while, but despite all that development and marketing, they still lose out in pure usefulness to box cutters or even a pair of scissors. The Plastic Surgeon, on the other hand, looks like it has all the functionality of a box cutter but without all the…

These awesome Open X package cutters we wrote about two years ago has a pretty steep price drop. No longer $10, it's now $4.95, and even come with free shipping if you buy 6. Never rip the inside of your mouth opening a package like an idiot again.