In news that sounds straight out of a dystopian Margaret Atwood novel, surgeons managed to keep a genetically modified pig heart alive inside a baboon for 945 days before it failed last month. "Xenotransplantation" experiments like this may one day lead to doctors raising pigs for organ transplants.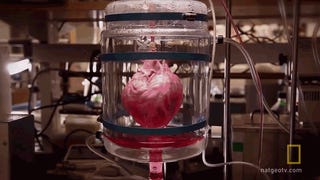 Coming fresh on the heels of the news that scientists are successfully 3D printing live, working, mini human kidneys, a new report in Nature is giving another burst of hope to the future of organ transplants. For the very first time, a research team has been able to grow human heart tissue that beats totally…
If you were ever curious as to how much body parts can fetch on the black market, Medical Transcription created a snazzy infographic to show you. Some parts are shockingly cheap! Like would you want a new shoulder or a new iPad? Both cost 500 bucks.