In news that sounds straight out of a dystopian Margaret Atwood novel, surgeons managed to keep a genetically modified pig heart alive inside a baboon for 945 days before it failed last month. "Xenotransplantation" experiments like this may one day lead to doctors raising pigs for organ transplants.
By using the active ingredient in antifreeze, researchers from Harvard University have developed a 'supercooling' technique that triples the length of time a rat's liver can be stored outside the body prior to transplantation. The technique, should it work on human organs, could revolutionize how transplants are done.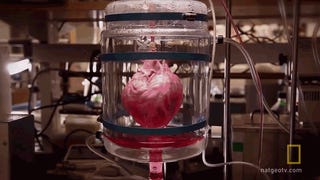 Coming fresh on the heels of the news that scientists are successfully 3D printing live, working, mini human kidneys, a new report in Nature is giving another burst of hope to the future of organ transplants. For the very first time, a research team has been able to grow human heart tissue that beats totally…
If you were ever curious as to how much body parts can fetch on the black market, Medical Transcription created a snazzy infographic to show you. Some parts are shockingly cheap! Like would you want a new shoulder or a new iPad? Both cost 500 bucks.
Two scientists at the Thomas E. Starzl Transplantation Institute at the University of Pittsburgh discussed the state of xenotransplantation—the use of cells, organs, or tissue from one animal in another—in a review in The Lancet. In that review, they touch on the history of one particular subject: pig-to-human…
Specially engineered killer T-cells could make organ rejection a thing of the past">The greatest problem for transplant procedures is that the body's immune system will reject the life-saving replacement organ. But mice have special cells that can selectively suppress the immune response - and they could revolutionize…

Forget kidneys and livers. Evil drag queens have raised the science of organ transplantation to an artform, encompassing sexy long legs, genitalia and even "manginas." Who needs to worry about tissue rejection when you can look so irresistible?

It's all in RuPaul's new movie masterpiece Starrbooty, newly out on DVD.