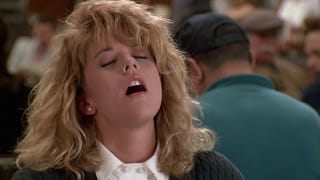 Imagine you're playing a video game, maybe walking somewhere, basically minding your own business when the orgasm arrives. No arousal, no physical stimulation, no buildup, no control: just an instantaneous shift from status quo to woaaah. It's called an orgasmic seizure. Here's what scientists are learning from people…
These ladies are ADAM, a Dutch electronic dance music band who had a great idea for their latest video: To sing their single Go to Go while using a vibrator, trying to keep a straight face, the pleasure building up until they reached climax. Brilliant concept, perfect execution.
A whistle-stop tour of the science of orgasms, from the physical phenomena to what happens deep inside your brain at the point of climax, all in cartoon form. You're welcome. [YouTube]
While there's been anecdotal evidence floating around for a long time that exercise can help women achieve sexual satisfaction, a new study's gone and proved it; exercising the core abdominal muscles alone can bring females to orgasm.
Awkwardly-coiffed magician Penn Jillette is an inventor. His greatest triumph: a "hydro-therapeutic stimulator" for women with jetstreams directed to "stimulation points (e.g., the clitoris) of the female user when the female user sits in the seat." Meet the Jill-Jet.