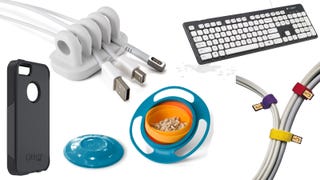 Everybody knows someone who's a walking disaster. Hand over a tablet and, oh hey, here's a new port in the middle of the screen. Let 'em near the TV and, congrats, now you've got a piece of modern art. You might not be able to save all gadgets from the klutzes in your lives—or even save them from themselves—but with…
Otterbox's cases are tough, but their new Utility Series Latch case can pretty much attach itself to anything, allowing you to use it in almost every situation.
Personally, I have never been big into phone cases. They can be bulky, flimsy, and having one clipped to your belt makes most people look like a tool. I prefer to let them hang out naked and free—as nature intended. Still, iPhones don't come cheap, and if you dropped all that cash on one you are certainly justified in…
OtterBox is known for their rugged cases, and this forthcoming iPhone case looks like it's going to continue their tradition. It's got "complete" protection, which means not only are all the sides and back covered (the buttons work through pass-through buttons), there's a built-in screen protector that works through…
Slashgear already knew the Otterbox was a great laptop case, having driven over it in a Toyota 4Runner, but what they didn't know was if it would actually protect their Macbook Pro from the elements. Namely, the wet element—water.
Don't know why it's called OtterBox, really. Maybe because it has a hard outer skin? Like an... Otter? Erm. It allows you to shell mollusks on your stomach? Eh, whatever they were thinking, the OtterBox 1910 is a protective PDA case specifically made for the HP 6500. The water-tight seal should help if you're heading…