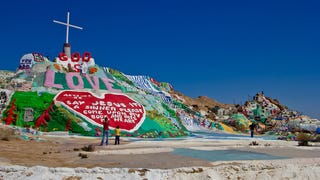 The only color in the landscape for miles, Salvation Mountain looms like a mirage on the horizon. The three-story, three-decade work of artist Leonard Knight, who died yesterday at the age of 82, is a piece of brightly painted, hand-sculpted California desert, like an impossibly scaled cathedral made from Play-Doh.
To advertise her penchant for painting celebrities with confused pets, this Etsy seller is showcasing her art with a semi-inexplicable portrait of Mr. Spock and a cat you've never met before.
There are plenty of cosplay tribute videos on the web, but these strange Sailor Moon home movies are gaining play due to their public access production values and the fact that all of the actresses involved look extremely bored.
Most folks remember Tom Carvel (1906-1990) as the frozen dessert magnate behind Carvel Ice Cream empire, but what a lot of people forget is that Tom Carvel created some of the most phantasmagorically confusing commercials ever to air on television.