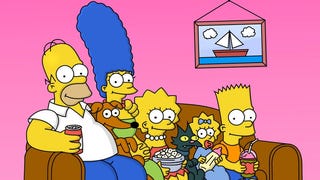 Over at the Oxford Dictionaries blog, there's an essay by author and Indiana University at Bloomington professor Michael Adams that investigates how The Simpsons has helped shape the English language over the past 25 years.
The editors of the Oxford English Dictionary are crowdsourcing research about WWI-era slang. Have you found a use of "Zeppelins in a cloud" (slang for sausage and mashed potatoes) that's older than 1925? How about a use of "shell shock" older than 1915? The OED wants to hear about it. [Chronicle of Higher Education]
The Oxford English Dictionary has a fun little web toy that lets you see a word that was first used during the year of your birth. What's your birthday word?
As far as humans are concerned, the world didn't exist until, well, they existed. That means anything that happened before you were born is mere fairy tales and make believe conversation. But what about those words that filled those tales and conversations? When did they start existing? When were those words born?…
Last week it came to our attention that the phrase "blast off" was coined—not in a purely scientific context, but a science fictional one—by E. E. Smith, an early science fiction author often referred to as "the father of space opera." The term appeared in Smith's 1937 story Galactic Patrol, when one character…
The stuffy old OED—the last word in what is and is not the English language—has decreed that <3 is a word. Or rather, the vertical version of that. It's the first time a symbol has been included as a word. Death of the English language? Natural lexicographic evolution? Just a way to screw with QWERTY keyboard makers?…
"Falling away by tens per cent a year," the print dictionary market "is just disappearing." That's what Oxford University Press' CEO Nigel Portwood says. And that's exactly why the third edition of the Oxford English Dictionary may be online only.
According to Pixmania.com's research, the speedy growth of consumer electronics and associated buzzwords and acronyms has created the "fastest growing language" in Europe. The study says it's more widely spoken than any single European language and is used by all ages. More words get added to it each year than are…