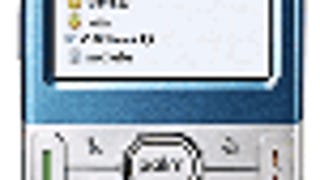 As promised, the Centro is now only $70 on AT&T with a two-year contract and rebate. Plus it comes in snazzy electric blue. [AT&T]
Apparently the Centro is going to be stupid cheap on AT&T starting July 11, and it'll come in "electric blue." Palm is being coy about exactly how much cheaper, but we figure it'll be a decent discount-maybe down to $49, like the BlackBerry Kickstart will be. We're sure it'll have people lining up at AT&T stores this…
Already available on the three biggest US carriers, the only way to make the Centro a bigger hit is to sell it unlocked-and that's what Palm is doing, for $299. It's only in white, though. You can pick it up online at Palm's site. Also, starting tomorrow, they'll be offering Google Maps with My Location for Centros,…
With Sprint and AT&T already down, the Palm Centro continues to cut a swath through the major wireless carriers. Based on the images above, its latest stop appears to be on Verizon. Word is that the first installment will feature this lovely blue color with other versions following later on down the line. [Engadget…
By the look of this page from the recently released user guide for the Palm Centro, it looks like the cellphone will be getting a navy blue version, as well as an all-white makeover with gray keys. [Gadgetell]

Released just yesterday, the Palm Centro has our eyes for a few reasons. First, their Treo smartphones have some of the highest ratings in smartphone history on review sites like CNET. So when Palm essentially shrinks their famous Treo and drops the price to $99 with contract, we have to take a closer look.
The black Palm Centro is available on Sprint's site now for $99 with contract. [sprint via crunchgear]
There have been spy shots and leaked official photos, and now Sprint just made it official that the Palm Centro will find itself in someone's hot little hand on October 14 for a mere $99.99. And looky there, it's got a surprising color slathered onto it, too.
Sprint's Q4 lineup looks to have leaked to the public. They'll be offering the LG Rumor, HTC Touch, Palm Centro and Blackberry Pearl 8130. You may remember the 8130 on Sprint from when it was still called the Pearl 2, and it's on track to be released at the same time as original intel reported.
The European Palm site has dropped a teaser page concerning the new Palm smartphone. The page indicates the 12/09/07, but does not specify whether this will be a launch date or not. Specifically it states:
The page invites residents of the UK, the Netherlands, Germany and Italy to enter a competition in which they…
A poster on the phonenews forum seems to have come up with the Sprint lineup for the next several months, all the way into early 2008. To start, they have the Motorola V9M on 9/4, the USB EV-DO Novatel U727 modem on 9/30, Palm Gryphon (code name for Palm Centro) and Sanyo S1 2500 on 10/14, LG LX260, HTC Vogue,…