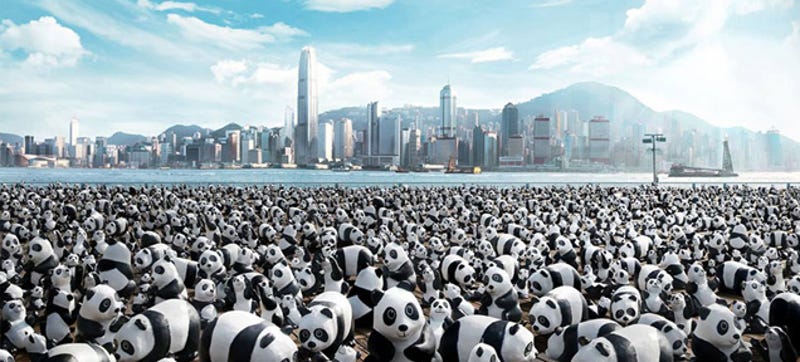 If you walk around Hong Kong and find this papier-mâché panda invasion don't worry. It's just a campaign to raise awareness about the dwindling panda population caused by human activity. Every single panda represents one of the individual left in the world. They may seem like a lot, but it's actually next to nothing.
Conservationists have long been working to prevent pandas from going extinct. And their efforts might now have a renewed focus as researchers from the Life Sciences College of Nanjing Agricultural University have discovered an antibody in panda blood that's extremely effective at killing fungus and bacteria.
Day one is winding down at CES, and we're already starting to see some trends emerge. Like, everyone seems to have the flu. And, wow, those are some big-ass TVs. But we've been picking up on a few themes that seem to be emerging after this first official day of CES. Here are the highlights, lowlights, and…
Known panda-hater, poll-loser, and Gizmodo senior editor Brian Barrett is out on vacation at the moment. So I'm free to post this sickeningly adorable photo of panda bears—wonderful, tenacious creatures—sleeping in a giant panda crib. Eat it, Brian.
Insert your finger into the Tuttuki Bako (Tuttuki Box) and you probably won't feel much. Unless you look at the screen, you wouldn't know that you were clumsily stoking a tiny panda, a small, terrified man or even a woman's understandably unhappy face with an inappropriate-looking appendage. This lovely toy will…
This Banquette Chair is as close as you're going to get to a chair made entirely out of Pandas unless you're David Bowie. It's a chair. It's made of stuffed pandas. It's $75,000. What more do you need to know? Create one for yourself after a trip to Ikea, a trip to Home Depot, and a trip to the carnival. [DVICE]
Usually we resent product names that tell us how we should feel about them, but the fact that Crane's line of animal-shaped humidifiers are adorable is beyond disputing. We have a dog and also live with cats, so we'd probably end up with the two at left, but the elephant and panda are nice too.