The Question was about as fallible a superhero as ever existed. In the very first issue of his solo comic in the 1980s, he got the crap kicked out of him and caught a bullet to the middle of his forehead at point blank rage. He died. He got better. But he never was quite good enough. That's why I love him.
The latest blockbuster Marvel superhero movie features a burgeoning romance between two unlikely characters. Moviegoers new to the world of the Avengers might have seen the Vision's crush on Wanda Maximoff and thought "aw, cute!" Comics readers familiar with the history of the teammates probably reacted with "oh, no…"…
Millions of people use iTunes. Nobody reads the walls of text that show up every time Apple's music software updates. Wait, you do? You're a freak. So is Robert Sikoryak, who's made a graphic novel out of the corporately mandated agreement, riffing off comics greats like Frank Miller and Charles Schulz.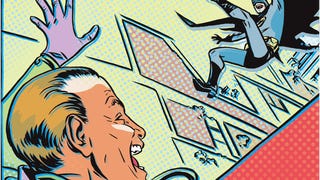 I have a little guilt over it but I'm doing most of my comics reading on an iPad nowadays. While the convenience is great and the work can look better on the screen than in print, it's a little weird that comics are still so static on smart devices. Comics legend Jim Lee thinks so too and, as co-publisher of DC…