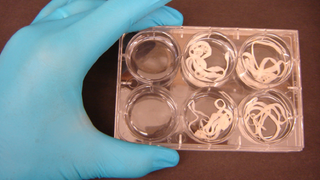 Intestinal worms have an incredibly bad reputation. The thought of them sneaking around inside our bodies and eating us from the inside is pretty unpleasant. But for decades, results coming out of lab after lab have shown that some kinds of helminths can be extremely beneficial to their host, and aren't parasites at…
The 2015 Nobel Prize for Physiology or Medicine just went to three scientists who found parasite-killing chemicals that are now important tools for fighting human diseases. But the chemicals in question weren't created in a lab: one is produced naturally by a bacterium, the other by a plant used in a traditional…
More than 300,000 households in Lancashire, England have been warned to boil their water until at least Wednesday to kill any traces of Cryptosporidium, the BBC reports. The nasty livestock parasite, which surfaced last week, probably came from a rotting animal carcass or feces, according to The Guardian. Lovely.

This week, a team of researchers at Dartmouth announced an exciting, if terribly disgusting, medical discovery. A single-celled parasite usually found in cats' intestines—and later in their poop—shows unique promise as a cancer treatment. The researchers even think the parasite could enable them to create personalized…
Need an easy way to gross yourself out? Watch this video that describes six different parasites by Asap Science. You have worms that create a nest around your butt hole, parasites that take over the tongue of a fish, ants that can become zombies and a whole lotta other scariness. What's least comforting is how…
Cancer patients may feel like they have alien creatures growing inside their bodies, robbing them of health and vigor. According to one cell biologist, they're exactly right. The formation of cancers is really the evolution of a new parasitic species.
This cellphone patent from Motorola lets a cellphone keep an eye on its own battery power, and when low, turns the phone into a parasite on neighboring phones. When the juice on your phone gets down to a certain point, the phone switches off all non-essential functions (like dialing and texting) and finds a compatible…