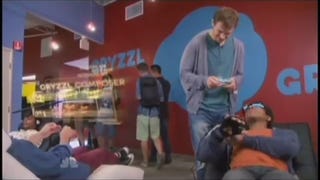 Parks and Rec jumped a few years into the future for its last season, and that jump has mostly manifested in holographic tablets. Last night's episode, however, took on the more in-depth subject of data-mining pretty seriously, and with characteristically goofy wit. It's just a liiittle too realistic though.
We have a couples beginnings this week with the premiere of the TV adaptation of Terry Gilliam's 12 Monkeys (which we're pretty optimistic about!) and the return of Helix — can its new island setting win us over? Plus, The Librarians closes its first season while Constantine and Grimm are back from vacation.
The year 2017: where everyone is two years older, skies are filled with drones, and Leslie Knope is President. Ok, maybe not that last one. But in season 7 of NBC's Parks and Recreation we'll know all the goings on of our favorite characters in the year 2017.
Neill Cameron's perfectly titled "Parks and Trek" series reimagines the inhabitants of Pawnee as the crew of the Enterprise, circa The Next Generation. If this had been the real crew of the show, Commander Ron Swanson would have ensured that the show didn't have to grow the beard.
Amazing Illustrator Vicky Trochez has dreamed up and amazing bit of mash-up art. Check out the kind folks from Pawnee all suited up and ready to fight crime. The only person missing is Li'l Sebastian... but what if he's the ultimate villain??
If you didn't catch Parks and Rec last night, you missed out Aziz Ansari (a.k.a. Tom Haverford) hilariously explaining the tech we use every day—and his interpretations are spot-on.