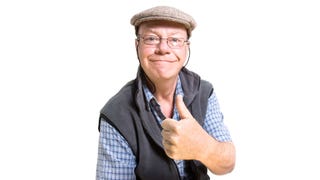 Man's eternal quest for faster and ever-more efficient ways to shoot blood into his penis has taken a step into the 21st century. We're now using nanotechnology to churn out our boners, thanks to an Egyptian-made transdermal patch.
At first I had absolutely no idea what was going on in this video. But eventually it made sense; and when it did, I actually thought it was kinda cool. What you're seeing is a hybrid between art and programming, and it's called illucia.
Droid sales are blowing up, but so too may be Droid speakers, as reports are starting to pour in from users who've experienced the sound cutting out at inopportune times. Island of Misfit Toys, here we come!
As rumored, less than a week after the release of Snow Leopard, Apple has already dropped the first patch on developers for testing. The 71.5 MB download includes several fixes related to 3G modems, the Dock and Motion 4.
The 1.0.4 update for the Palm Pre just got released, but along with patching some security holes, kills the homebrew ability that made everyone so excited.
According to a Fraunhofer Institute for Secure Information press release, the eagerly expected iPhone 2.2 operating system update will arrive tomorrow, November 21. The release is expected to bring new features, but the Institute's note highlights a major security problem that can make your iPhone to place a call when…
Nowadays, any self-respecting hardware manufacturer is locked in an interminable battle to lock down their platforms for unclear reasons, because that's how things are, OK? Accordingly, Nintendo has just released a patch to prevent would-be homebrewers from enjoying their Wiis too much. Not that this is unexpected —…
We're sad that after all these years, the only place QR codes are actually useful is still good ol' Japan (where they're everywhere). That said, San Francisco has recently dabbled, and there are readers available for just about every mobile platform (including iPhone)-which you'll have to make sure all of your friends…
We've been lucky enough to not have to deal with carpal tunnel, but those of you who do might be interested in this Brando "Infrared Thermal Patch." We're not sure which part of it is infrared, or which part of it is a patch, but it's just a little plastic plate you place on the affected area that will warm it up to…
Microsoft's finally patching the wicked s'ploits on the Xbox 360, which have been around since November and demoed in December, with a somewhat mandatory patch. They're pushing the update as an update instead of a security fix, and is "pulling a Sony" and including the update in all games that are published after…