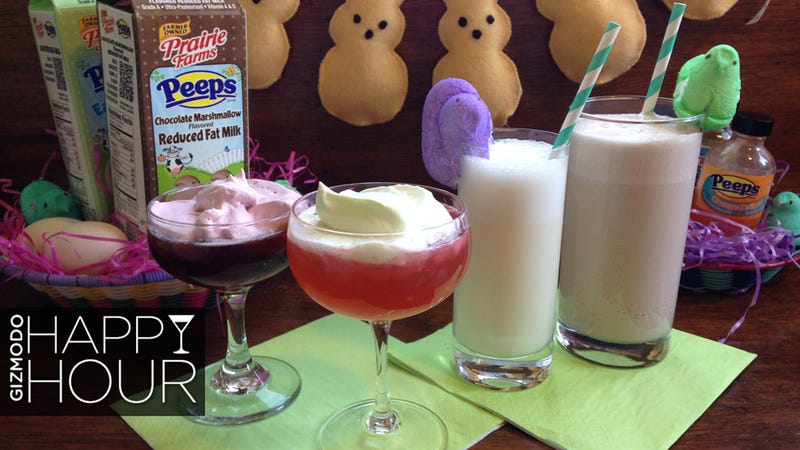 It is the annual Peeps dilemma: To diorama or dip in dark chocolate? This year, the most polarizing sweets on the planet have become the most polarizing beverage in the dairy case. Yes, there is Peeps milk. It is real and kind of gross but I'm still going to drink it on Easter morning. With booze. And you can, too.
For whatever reason, Easter has become that special time of year when people everywhere gather round to destroy tiny, marshmallow birds in the most demented ways they know how. And so far, it looks like Red Hot Nickel Ball has this year on lockdown.
You probably never wondered this before but the Internet is always about answering questions you never knew you had. Like, how many Peeps and Cadbury Easter Eggs can a 50 cal rifle shoot through? Rated R on YouTube decided to give it a try and blasted through your favorite Easter treats so you don't have to.
What are the little marshmallow peeps we see in Easter baskets actually made of? The Daily takes a humorous look. Empty calories, spray foam insulation, banana slugs and Warholian nullity sounds just about right. [The Daily]
It may not feature comedy superstars, but this Apple keynote diorama does have a higher sugar content than any other homage we've seen. [Washington Post, thanks Sean!]
Marshmallow Peeps—Easter's wonder "food." You can eat them, you can blow them up in a microwave, you can even use them to control your Nintendo Wii. So, how are Peeps best utilized?
Peeps taste like the foam rubber inside Temperpedic mattresses, but enough people devour the surprisingly-useful marshmallow birdies that they're reborn every Easter. The Tribune shows us the industrial womb they're born in via photogallery. [Tribune]
Being that it is currently All Hallows Eve, a night on which the demons and ghosties come out of their uneasy graves to destroy the souls of the living, we decided to get a jump on those selfsame ghosties and destroy our own souls with JustBorn Peeps Pumpkin DelighFills.