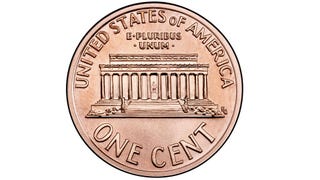 There are plenty of ways that pennies made before 1982 are superior to ones made afterwards: The pennies themselves are worth more, as they're made with solid copper. When flicked or dropped, they have a pleasing ring to them, while modern pennies thud. Finally, early pennies can be used in a bunch of fun science…
This morning, Gizmodo HQ ended up in a conversation over the utility of pennies. We all agree that they're pretty useless. For the most part, they just end up in pockets and drawers and jars. It costs more than a penny to produce a penny. And trying to pay for something in pennies will net you a ticket. Ugh.
Netflix loves that so many of us have turned to the convenience of streaming. It costs Netflix 3 cents to stream a standard definition movie, and 5 cents for HD; that's why they'd rather stream than mail you a disc.
In fine DIY style, a Lincoln cent works well to vent some BTUs from tiny components. Imagine opening up your new gear to find these in place of ceramic future fins. [Hacked Gadgets]