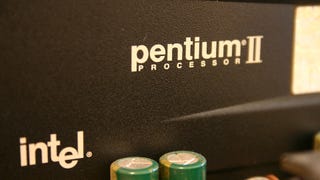 We use things every single day, and call them by their names. I pick up my iPhone. I drink my Fresca (shut up). But the names don't just appear. It's actually someone's job—and they're great at it.
As promised, here are stats for 20 different Intel chips from the past 35 years, most of which I included briefly in the Moore's Law video I made earlier, along with bonus factual tidbits I came across while looking over some Intel stuff today. Here you can enjoy it at your own pace (and without the music that some of…
Fifteen years of the Pentium brand came to an end today when Intel formally announced the availability of its 3GHz quadcore Xeon X5365 processor, while quietly confirming the phase-out of the last seven Pentium 4 single-core and Pentium D dual-core chips. (Sniff.) [TG Daily]
Put those old Pentium processors to good use by making you a nice warm cup of coffee in the morning. By the looks of it, all you have to do is hook up some wires from a USB cable to the processor itself and wait for the chip to heat up. Throw a cup of coffee on top and you're well on your way to a coffee-powered…
Chip giant Intel Corp. took the gloves off yesterday, announcing that it's going to be able to cut prices on its older chips faster because of its implementation of more-efficient manufacturing technologies. As Intel moves into a fourth factory it's built, it will be easier for the company to quickly ramp up to more…
Audio/Video nerd Lorin over at geeks with blogs bought himself a fancy new Toshiba HD-DVD player and prompty dismantled it without even plugging it into a TV. Even though we question his priorities, we do salute his DIY-ness in exposing the guts of the machine for all the internet to see.