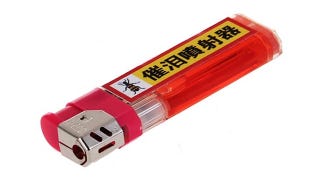 Sometimes a sneak attack is the best way to fight off a would-be assailant. Pulling an obvious can of pepper spray out of your pocket or purse immediately tips them off that they're about to be blasted. But they'll be none-the-wiser if you pulled out this innocuous-looking lighter.
Smoke rings from a toy gun don't do much more than entertain a child. But by giving them an electrical charge, a company called Battelle has discovered a way to make them more useful for firefighting and even crowd control.
Of all the questionable iPhone cases I've seen, the Smart Guard certainly raises more than just a few eyebrows. It's designed to protect both the phone with a durable case, and the user with a can of pepper spray.
You may not know that Darth Vader lives a very questionable lifestyle off-camera. When not making Star Wars films, the Sith Lord has been known to rob banks and exploit ill-conceived Ukrainian property laws. The intergalactic ne'er-do-well's latest imbroglio takes us Orlando, Florida, where an intoxicated Vader…
The next time you need to incapacitate a bunch of people sitting on the ground silently protesting corporate greed, think outside the box—face-burning spray canisters are becoming passé. Mother Jones' Dave Gilson wraps up the best eye-melters around.
Because getting maced just doesn't suck enough, there's now mace pepper spray gel. This shit will coat your face with pure, burning stickiness, turning your misinterpreted flirting into a blind search for water or anything else that'll provide relief for your painful, painful face. The benefit to the sprayer is that…
Aside the fact that it's easy as balls to spot from a mile away thanks to its impressive heft and blue hue, Domonique Torrence's Spider-Man-inspired pepper spray bracelet comes close to being a useful idea. It's loaded with pepper spray cartridges, so you just slam the button in your palm to disperse the mild irritant…