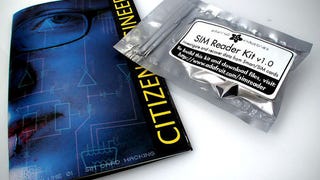 Phil Torrone, senior editor of MAKE and creative director for DIY site Adafruit, is a DIY guru and all-around good guy. So we had him give us good songs to listen to while building stuff.
I've always been fascinated with the idea of laser etching all my tech gear, and it looks like I would finally be able to do it at the Gizmodo Gallery. Thanks to Make's Phil Torrone and his laser machine, anyone walking in the Gizmodo Gallery would be able to tattoo their metal gadgets with Phil's laser, absolutely …
Maker Faire is in town again, hitting up the bay area with their ridiculously dangerous projects and robots and flaming robot projects this May 3 and 4. If you're in town, you should stop by and see what the crazy doctor Phil Torrone has cooking for you. At the very least, you can stop by and say hi to the Giz folks…
Phil Torrone thinks etching laptops is already old news. We asked him to grab a bite to eat and he emailed us back with these photos of his laser etched dinner, some dried seaweed. I'll take some of that. Maybe a little laser seared tuna, too? And could you guys remove this hairy mole on my back, please? Sweet, thanks.