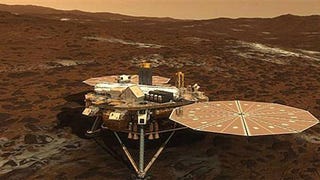 Wondering why we hadn't heard from NASA's Mars Phoenix lander in a while? Ever since the harsh Martian winter of 2008 set in, the poor guy's been in deep freeze. This week, he's got one last chance to make contact.
Mars isn't exactly the warmest place during the winter transition, but as the first few rays of sunshine lick at the planet's surface we're able to make out the Phoenix lander shivering under a cover of dry-ice frost.
We just put up some 3D images taken by the Phoenix Mars Lander on our 103-inch plasma, handed out some old school anaglyph glasses, queued up "Life On Mars?" and took a look for ourselves.
As the clock continues to tick for brave Phoenix so far away on Mars, the discoveries keep on rolling: this time, that snow falls on Mars. A laser instrument called for pulsing the atmosphere and observing what gets bounced back detected Martian flurries at altitudes of 4km in the clouds. The snow is vaporizing before…
I've always tried to look at jet lag from a more recreational perspective (when else will I rise from sleep wide awake at 3:45 AM?), but what the scientists of the Mars Phoenix Lander mission have to go through makes a 19-hour direct flight to Singapore look like cupcakes. Since Martian Sols are longer than Earth days…
Our favorite Martian gadget of the moment is experiencing some performance anxiety. While all of Phoenix's parts are working just fine, including the 8-foot scoop arm, the little guy just couldn't seal the deal when NASA scientists gave the green light to scoop dirt and put the bun in the oven. None of the inaugural…
After experiencing a little trouble early on with the robotic arm on the Phoenix lander, it appears that all systems are go for NASA to begin sampling Martian dirt. A practice scoop was carried out successfully and scientists noted that "a bright material appears in the scooped-up soil and in the hole from which it…
The landing thrusters aboard the Phoenix Mars Lander apparently did their job and them some. First, they successfully fired and gently deposited the multimillion dollar probe on the surface of the Red Planet. And then, by doing just that, they blew away three to six inches of Martian soil to reveal the shiny, slick…
Putting rest to fears that the Phoenix Lander might be DOA, the lander wagged its robotic arm on Thursday. NASA was worried that a stuck piece of plastic casing could prohibit the 7.7 ft titanium appendage from extending, making it impossible for the Phoenix to carry out crucial drilling experiments.
As you digest hot dogs or tend to one of your geektastic Memorial Day grilling machines today, take a moment to consider NASA's Phoenix Lander, which is scheduled to touch down on Mars this evening. At about 8 p.m. EST, the multimillion dollar lander will enter the Red Planet's atmosphere and experience what CNN is…