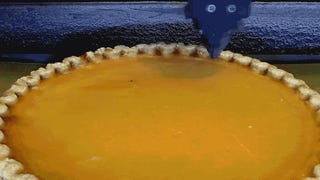 To guarantee a chorus of oohs and aahs when you bring your pumpkin pie to the table today, why not consider first putting it under a laser-cutter—with the intensity dialed back—to etch a beautiful design on its surface?
The New York Times has finally called in the experts to explain why so many apple pies turn out so badly. This great visualization is based on comments from Amy Rowat, a biophysicist at UCLA who teaches a class that covers the delicate science of apple pies.
Candy apples? Your days are numbered. There's a new candidate for greatest treat-on-a-stick that doesn't try to sneak fresh fruit in with our calorie-laden snacks—the Babycakes Pie Pop maker, which we wholeheartedly endorse.
Not just a pie maker, but a PERSONAL pie maker. I suppose that means I can eat all four pies myself, right? Perfectly-crimped pies for just $80, exclusively at Williams Sonoma. [Williams Sonoma via OhGizmo]