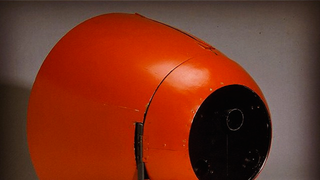 Yesterday, in 1904, pyschologist B.F. Skinner was born. His contribution to the world? This pigeon-guided missile system, among other things. Yes, really.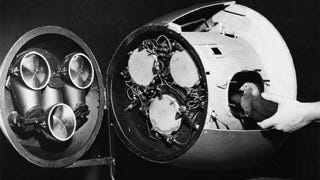 Today I found out about Project Pigeon andProject X-Ray, WWII plans to use pigeons to guide missiles and (literal) bat bombers.
Pigeons are everywhere in cities, but they don't get a lot of love. True, they can spread disease and aren't very personable, but maybe they're not getting the credit they deserve. Like city-dwelling humans they have places to be and lunch deals to scavenge. And like good urbanites (and penguins) they know their way…
These days there are plenty of opportunities to take interesting photographs from unusual angles, including strapping tiny digital cameras to birds. But some early aerial photography was rather more clunky—and used massive cameras strapped to the breasts of pigeons.
The pigeon is a nasty bird. Sooty, dingy, generally unpleasant to behold. But right now, as part of the currently underway Venice Biennale contemporary art festival in Venice, Italy, the city's unsightliest tourist attraction (its plethora of pigeons) has been given a stunning makeover.
John Metcalfe at The Atlantic Cities answered the question every city slicker wonders at least once: how come there aren't dead pigeons littering the city? Where do they go? How can they just disappear? The answer, though not too surprising, is rooted in nature.
We knew certain prisoners used pigeons to smuggle cellphones, but this guy looks like he's merely keeping up with the times. Tying paper messages onto a bird's leg is so 20th century. [Terra]
It's great being at the top of the food chain. That means we can use animals for our own devices. Sorry, PETA, but that's the law the jungle. And here's a great example of our cooperation with (or if you prefer, enslavement of) animals, this time with our friends the pigeons. A flock of 20 of the birds will be…