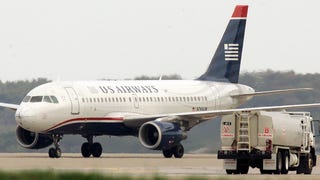 Pittsburgh International Airport has seen better days. Saddled with debt from building now unused gates, the troubled airport is expanding into a completely different business: fracking. The airport will stay open as drillers tap the gas reserves underneath, thanks to a technique called horizontal drilling.
As a big urban walker, I like to head for the hills. So when I stumbled upon this list of the steepest streets in the U.S., I just had to see what they looked like, and I started planning a trip to hit all of the most insanely steep stretches of our American streets. The scariest thing? People live (and park!) on them.
Breaking into an electrical substation to swipe copper cable is about as stupid as siphoning gas from a moving 18-wheeler, but if it's botched, you only hurt yourself. Pennsylvanian idiot thieves tried the former and turned off the lights.
Find My iPhone to the rescue again! Pittsburgh Police nabbed three robbery suspects over the weekend, after the man they allegedly robbed used the MobileMe online service to point police to their location.
Capping an unseasonably goofy week for Street View, one of their drivers managed to clothesline his car's protruding pole camera with a low bridge outside of Pittsburgh. He submitted the photos to his boss anyway.