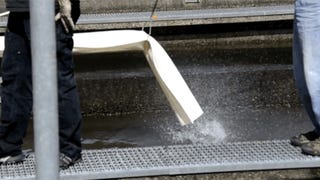 It's not easy being a migratory fish these days. Not only do you have to deal with natural obstacles like friggin bears, there are also man-made obstacles standing in the way—like 500-foot-tall dams. One enterprising company has figured out a safe and effective way to get around these problems: a fish cannon.
It takes work to go upstairs, but it doesn't have to. That's why elevators were invented. If you want an elevator in your home, though, it takes some serious construction. Why not travel through pneumatic tubes like the Jetsons? No, seriously, you can.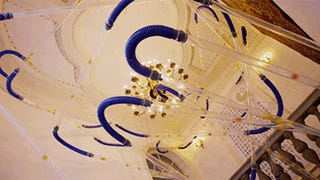 It's Friday! Time to sit back, relax, and enjoy a genuinely satisfying session of Suck the Balls. Designer Niklas Roy's interactive installation shows just how much fun can be had with pneumatic tubes, a vacuum, and a pit of yellow plastic spheres. (Spoiler alert: lots of fun.)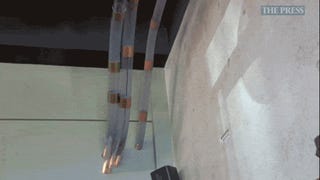 Waiter service too slow for you? How about a pneumatic tube that spits out sliders at 87 MILES PER HOUR? C One Espresso, a cafe in Christchurch, New Zealand, has concocted just such a plan to deliver mini-burgers straight to your table via pressurized air.
New Yorkers have a history of experimenting with pneumatic tubes—both for mail delivery (seen above) and public transit—but only one version ever really stuck: An automated vacuum trash collection system beneath the streets of Roosevelt Island. According to two recent studies, this 40-year-old relic might hold the…
Before the internet, an actual series of tubes really was the best way to transport messages quickly. OObject has complied an amazing list of these systems—some dating as far back as the 19th century. [OObject]