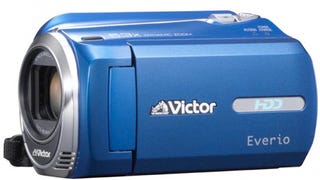 I've always been fond of JVC Everio camcorders, but with the latest round of pocketcams grabbing attention for far too long, it's about time we reverted back to a model with a decent sensor.
The third generation of Creative's Vado HD pocket camcorder improves on the last generation's features with better low light video recording, manual exposure adjustment, and motion detection modes, but for some odd reason only a 4GB model will be available.
I don't know how the new Vivitar DVR 150's quality will stack up against the Flip, but being waterproof down to 16 feet and having infrared night vision is a promising start. At least, for amateur submarine night porn filmmakers.
Flip's followup to the successful, caveman-easy Mino HD is fundamentally the same product, slightly better. The improvements are welcome, but there are still some issues I wish Flip would address.
Though it's a budget model, the latest Xacti still has a 10-megapixel CMOS sensor that records 720p video (H.264 encoded MPEG-4). But the best part: it looks to have built-in Eye-Fi for super-easy wireless video/photos transfers to your computer.
Our Battlemodo showed that while cheap pocket camcorder video quality has come a long way, audio quality is usually abysmal. The Zoom Q3 aims to change that with TWO directional microphones that can be focused much like a lens zooms.

The latest entrant into the compact, cheap camcorder running crew currently spearheaded by the Flip and all of its variants is now available—the Creative Vado shoots 720p, has HDMI-out and costs $200.
The Gadget: The Flip MinoHD, the most recognizable name in pocket camcorder's HD camera, it shoots 720p video on 4GB of built-in memory.
Flip, the grandaddy of cheap camcorders, is the latest to join the hi-def video club with the release of the Flip MinoHD. The MinoHD joins the Zi6 and EZ300 in capturing 720p widescreen video, and it will save up to 60 minutes of footage on 4GB of built-in storage. Its the same size as the original Mino, and it has a…
It looks like RCA is trying to best their own high marks with the Small Wonder EZ300, an HD-capable pocket camcorder that's seriously cheap. In addition to shooting 720p HD video (and along with Kodak's Zi6 making HD the pocket cam standard), the EZ300's 2GB internal memory is expandable by 16GB via SD slot, which…