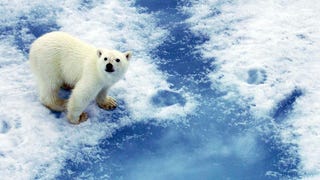 Polar bears are solitary creatures. They roam around their (increasingly less) snowy habitats, looking for food and love. Food is simple enough. But they have to sniff out love. No, literally, polar bears smell other polar bears' footprints to know if they can follow them to a suitable mate. How romantic!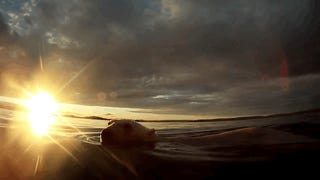 Filmmaker Adam Ravetch of Arctic Bear Productions likes telling visual stories about polar wildlife. By strapping a Go-Pro camera onto one of a group of four polar bears, he managed to capture some of the most jaw-droppingly beautiful footage of these creatures I've ever seen.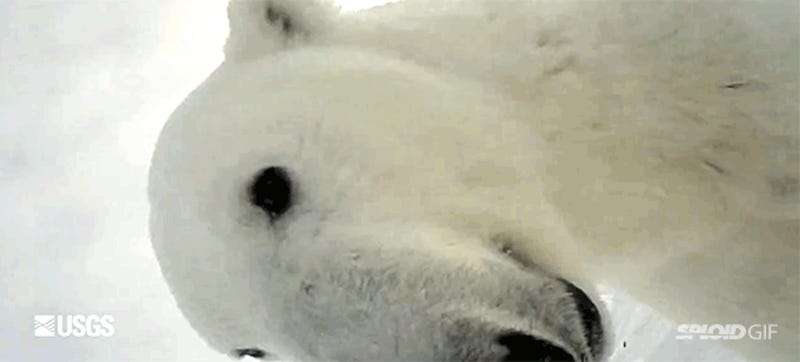 US Geological Survey's biologists attached cameras and radio collars to four free-ranging female Alaskan polar bears last April. One of the resulting videos shows one of the bears in action in the Beaufort Sea, checking out a potential mate, swimming below ice, and trying to eat a frozen seal (which is kind of gross.)
They start out as such adorable downy fluff balls, it's easy to forget that polar bears quickly grow into unstoppable killing machines their ecosystem's apex predators. So if you are looking to observe these deadly beauties in their natural environment without having to leave the comfort of your hotel room, your best…
Like all its documentaries, the BBC's Frozen Planet is fascinating and exquisitely filmed. Their crew has captured amazing things, including the creeping ice tornado. Unfortunately, they cheated on their viewers when they faked a crucial polar bear scene in a zoo.
Did anyone catch 60 Minutes just now? Bob Simon—who always seems to get the really interesting international assignments—was invited to go along on a polar bear expedition at the top of the world. What he saw there was amazing and...robotic?
The Toronto Zoo worked with Lowe Roche to create these hilarious polar bear puzzles, available for $7 in their gift shop. Coming soon: a coloring book with five Crayons—all white. [Toronto Zoo]